As a Climate Hero, 
A unique 4in1 bee farm, Natural cycle and Clean energy, Focus on global climate change! 
        Bees are some of the hardest working creatures on the planet, and because of their laborious work ethic, we owe many thanks to this amazing yet often under appreciated insect.
        Our lives – and the world as a whole – would be a much different place if bees didn't exist.
Climate Hero Park
        Climate Hero Park total own about 400 acres of land, divided into 4 parts each 800 kilometers from Vancouver BC to Watson Lake Yukon. It is the first 4in1 Bee Farm in the world.

        Unlike traditional bee farms, the original intention of the Climate Hero Park is to focus on global climate change and give back to the earth more than just asking from it. If this idea is accepted, we will not have to discuss too much the catastrophic consequences of climate change.
        Climate Hero Park's objectives are to provide positive and sustainable solutions to the climate crisis, such as hexagonal beehives, flow system and honeycomb, etc., and to build the world's first climate change experience adventure park.
        Decades of experience and determined development of production enables our high quality selection of products. We produce rare honey types that the mother nature provides us in different parts from BC to Yukon in areas varied by the vegetation and micro climate. The fireweed gives a unique spark to our honey.
        Our unique honeys are carefully selected diamonds of the best flavours from the Yukon nature. There is no inhabitation, farms or fields in the flying range of the bees, which results to pure and natural honey and guarantees the high quality of our honey.
        We cannot compete with the price with the cheap mass production countries. We consider the vegetation, the cleanliness of the area and the professional treatment of the honey. We always work on the terms of the nature and have our priorities in the quality over the quantity.
Yukon Chaga Honey
        Honey is a gift of nature. It has a sweet taste and many health and medical effects. The most obvious function and
effect of honey is to quickly restore energy. There is 120 to 150 μg of acetylcholine per 100g of honey, which significantly promotes activation of brain nerve conduction function and improves the speed of information transmission, enhances the brain's memory ability, and comprehensively improves brain function, followed by detoxification, beauty, antibacterial, anti-inflammatory and improving the body's immunity, among which propolis is known as a natural antibiotic.
        The Climate Hero Park's brand story begins with the northernmost bee farm in the world. The Yukon Territory of Canada is high in latitude, pollution-free, extreme climate, and huge in size. Fireweed honey, chaga and morel are the three specialty products in Yukon.
        
Many beekeepers have focused their honey on raw and unpasteurized products to attract consumers with "pure". Our innovation is just the opposite. In terms of production, from simple to complex, we actively advocate the "original ecological combination". In terms of consumption, from complex to simple, we directly provide customers with one-stop package.
        For example, Yukon chaga is a perfect match with honey, because chaga is slightly bitter, if mixed with honey, the taste is wonderful, both are pure natural, nutrition and medicinal value are mutually beneficial, which has extremely high medicinal value and delay Aging effect.

        Chaga is a very rare and precious medicinal fungus. It grows in the original birch forest in the extremely cold regions of the earth. On average, only one of every 20,000 birch trees has chaga, which is called "forest diamond".
        Chaga is rich in nutrition and contains 55 times the SOD of Ganoderma and 25 times that of Hericium erinaceus. It is certified by The US FDA as The King Of Herbs.
        Yukon Chaga Honey has a better taste and richer nutrition, it can effectively remove free radicals in the body, protect cells, and increase the number of generations of passaged cells. It can also effectively inhibit infectious viruses, sterilize beauty and prevent cancer. It combines the dual effects of chaga and honey.
The Spectacular Aurora Borealis
        We are the world's first climate change experience adventure park yet. Climate Hero Park in Yukon is in the center of the aurora belt, the Canada's most ideal aurora holy land.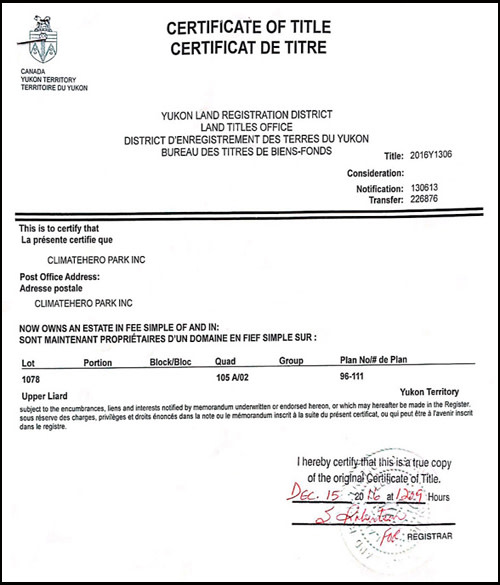 Into The Wild — Camping Free Forever !
From Vancouver to Arctic

Don't just come to visit, become an Owner!
        Join us, Chaga Honey + Aurora + Solar Jeep + Tiny House, Make different, as a Climate Hero !