As an Arctic Owner, 
Welcome to; A unique shared economic model, Camping Free Forever, From Vancouver to Arctic ! And a real community focus on global climate change!
The World's First Climate Change Adventure & Experience Park connects the most visionary people from all over the world!
The newest Arctic Expedition Route in North America, into the wild – Expedition, Adventure, Aurora, Hot Springs, Snow Golfing, Skiing … Camping Free Forever, From Vancouver to Arctic !
Aurora + Snow Golf + Solar Jeep + Aurora Tiny House
The innovative crowdsourcing shared economy model, You can act like a visitor, but you're really a co-owner.
Join us, as a ClimateHero, as an arctic owner !
Climate Change Adventure Trip
        Solar Jeep + Aurora + Snow Golf  — Visiting the North American Arctic is one of the most unforgettable journeys you can ever experience. The Arctic is also known as the Climate Change Experience Capital of the earth and it truly lives up to its name!
        You're welcome to join us on the newest Arctic Expedition Route in North America! — Longitudinal Canada from Vancouver to Yukon. We come together for this long-awaited Arctic odyssey and would like to invite you along for the voyage.
        As the polar icecap melts away due to climate change, The Arctic has undergone great changes and has become more and more important to us.
        To help make your journey successful, we will provide two Jeep Wranglers in Vancouver. We have spent time modifying these jeeps turning them into environmentally friendly vehicles capable of this Arctic expedition. You will have peace of mind knowing that as you make your journey to the Arctic your carbon footprint will be offset so that you do not contribute to the melting Arctic while making your trip.
Our Vision
        At ClimateHero Park we are dedicated to bringing people together who are in search for solutions and have concrete ideas, in terms of dealing with global climate change. We hope to change the world through new sustainable living lifestyles, new green technologies, and new business models, to rebuild the Earth with everyone together!
        On the outset, ClimateHero Park has always been about building a series of themed parks on global climate change from the south to the north of Canada. All composed of Micro-grid, passive tiny houses and tiny vertical farms. We are the first to use and experience the world's latest technology and products, such as AI, VR and 3D printing to name a few.
        Our Parks are full of interesting activities, each member is an actual owner. Members can choose to live in the Parks one day, two days, one week, two weeks, one month or two months. Members will experience different things, meet like-minded people and be able to experience an alternative lifestyle.
        In 2016, we invested in an 80 acre golf course in the Arctic to kickoff our ClmateHero Park mission. In 2017, we continued to invest in three more properties. One in Metro Vancouver (16 Acres), another in Prince George (100 Acres) and lastly in Fort Nelson (200 Acres). Our ClimateHero Parkland covers from the South to the North of Canada.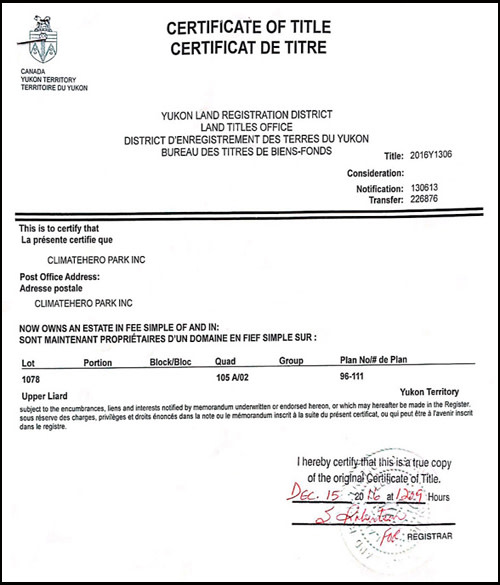 Our first project will be to create The World's First Climate Change Adventure Park. Our aim is to elevate education and awareness about Global Climate change through our use of green technology. Our parks collectively will be named ClimateHero Park.
        Our attention is focused on the biological, ecological and environmental aspects of the Arctic area. By studying the drastic changes occurring, we will be working with scientists, managers, politicians, operators, guides, hunters, consumers, and tourists.
        We are committed to continuing to do our part to ensure a viable future for the Arctic. Our development of this Adventure Park is not the end, but rather the beginning.
Into The Wild — Camping Free Forever !
From Vancouver to Arctic

        The Climate Change Adventure Park occupies a total 80 acres property, featuring 9-hole golf course, polar golf in summer, snow golf in winter .
        Here is the way to the Arctic Expedition in North America, to the west, it is Alaska, to north, it is the gold capital — Dawson City, to the east, it is Yellow Knife and to the south, it is the world's top ten hot springs — Liard Outdoor Hot Springs.
        ClimateHero Park's modular tiny-vertical farm will be built, to actively advocate leading low-carbon lifestyles as an ideal solution to save global warming. Enjoy ClimateHero Parks beautiful outdoors in the Summer and it's magical Aurora in the Winter. Join us to experience Climate Change and hopefully be inspired to help save our planet.
        The project aims to raise public awareness about issues surrounding climate change. The park will comprise a green recreational space for adventure, which will also act as an educational tool to illustrate the generation and use of renewable energy, as well as reduction of the carbon footprint.
        It is anticipated that this increased awareness will change how residents conduct their business and personal affairs. It is also expected to change how they maintain their homes, workplaces and public property in respect to climate change.
Don't just come to visit, become an Owner!
        Join us, Aurora + Snow Golf + Solar Jeep + Aurora Tiny House, Make different, as a Climate Hero !