EarthArk – The World's First Tiny House & Vertical Farm BNB

      Advocate environmental technology, let more people experience passive building , make everyone's home more comfortable, lower living costs and reduce the carbon footprint, call out people around the world are concerned about global warming.
      EarthArk is a different experience, live tiny often be able to think big. Homeowners who build EarthArk in their backyard have an excellent source of reliable income for decades. EarthArk is a way for more people to experience the pride of ownership and investment.

      Create one EarthArkBNB network platform, to build and park one 200 square feet EarthArk in the backyard, as a feature BNB chain outlets, let local communities and travel people to experience this ideal building technology.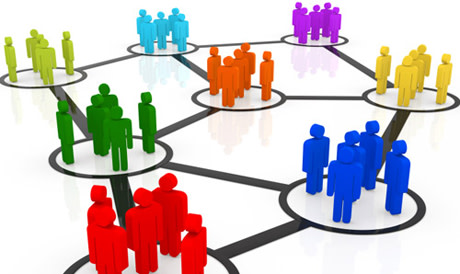 Call out more people change Own homes by passive building standard and build more EarthArk as own small business.

      One unique Tiny house & Vertical farm — Its length is 31.5 feet, wide is 8.5 feet, height is 10.2 feet, 5 separate rooms, including two bedrooms, one kitchen, one washroom,one tiny vertical farm, and two storage rooms, solar photo voltaic total installed capacity is 2.5 KW.
      Its Primary Energy Demand : not to exceed 12 Kwh annually for all domestic applications (heating, cooling, hot water and domestic electricity) per square feet of usable living space
      A full set of modular design, The simplicity yet durability of the design, and the fact that the end user can construct the home himself with simple tools and no previous construction experience makes the EarthArk a very cost effective solution with tremendous cost savings passed on to homeowners as a result. All components we can transport to anywhere around the world, as long as one person can be assembled to complete.
      Provide ideal financial loans of zero down payment, fast profit return!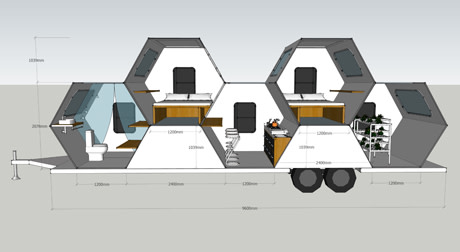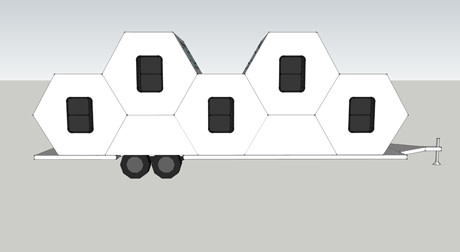 We have built one EarthArk as model in Vancouver, Like the original AirBNB which only have three air cushion bed at first, Now we want to change the world also. We begin to develop one global network, let more people Experience the new green Technology, focus on global warming and make money at the same time.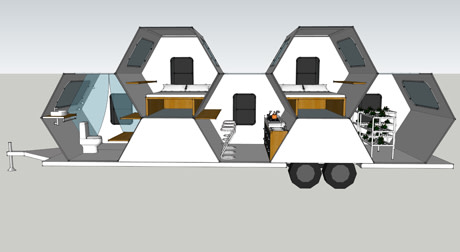 The difference is that we invented the unique architectural technology and modular products, our global unique chain BNB is not an ordinary simple expansion of the various family homes. We will provide integrated products with new architectural ideas and living experiences, and we can sent it to anywhere around the world.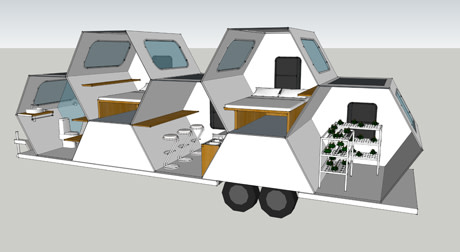 As long as you have 500 Square feet vacant land in backyard, we can instantly let you own a unique BNB small business, we can provide ideal financial loans of zero down payment, does not affect your current housing pattern and life, and share profits.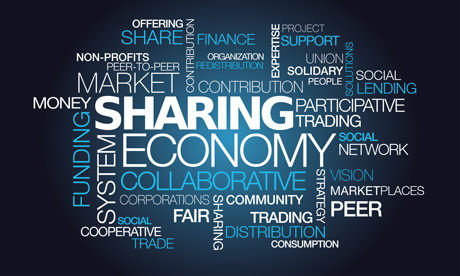 EarthArk Tiny BNB:
                        Land Area–500 sqft
                        Construction area–200 sqft
                        Two bed room for B&B
                        Build cost :  $85,000
                        Return on investment:
                        1, Unique B&B                               $60 per night per Bedroom
                                                                                 60*2*365*65%*2=28470
                        2, Management fee                          28470*25%= 7117.5
                        Annual income                                 28470-7117.5=21352.5
                        Response Rate:                               21,352.5/85,000=25.12%
                        Payback period:                                              3.98 Years
      Ever since we started the EarthArk campaign and published this project, the feedback has been overwhelmingly positive! Every day we receive calls, emails, and inquiries asking about where and when they can buy the EarthArk.       Many were keen to express that it is a much needed solution for single house owners in many parts of the world. The world is rapidly changing and with that, our needs are changing too. With your help and support, we will be able to develop the EarthArk prototype, and make available to society a rapidly deployable, scalable and affordable BNB solution that is much needed in today world.
      Join us, Own self small business in backyard, earn $$$!
Learn more