Climate Hero, 
While the COVID-19 pandemic has been an "unprecedented challenge," it's opening up opportunities to rethink and reshape Canada's future.
$95,000  CHP tiny house freehold plus 20,000 Sq Ft land for rent $500 per month in Maple Ridge
Analysis of Tiny House economic benefits:
Investment amount :     $95,000       20'L x 8'W x 10'H
Average rental price :    $220/day
Custody operation cost  40% :
$220/day x 40%= $ 88/day
Average rental profit :    $220-$88 = $132/day
Estimated annual occupancy rate is 35%
Estimated annual income :
$132/day x 360 days x35%=$16,600
Annual investment return rate :
$16,600/ $95,000 = 17.5%
Investment recovery period : 5.7 years
Risk about Price:
$220/night, a Tiny House that can sleep four people does not have an advantage over the traditional hotel in terms of cost performance.
But there are three biggest highlights of this project. First, it is unique. Natural outdoor hot tub is the dream of all nature tourists, whether it is in summer or winter. Second, the guarantee of social distance, because there is no public areas of traditional hotel in tiny house hotel, the safety is more attractive than space, decoration and complete supporting facilities during Covid -19; third, close to nature, retreat to nature and beekeeper life, all customers who like adventure travel, the first pursuit is nature and interesting, luxury hotel configuration is not the focus of customers. They like different.
Promise about Occupancy Rate
The local bee farm tour in summer, plus Arctic northernlight tour in winter, should be sufficient to maintain a 35% occupancy rate for each Tiny House. So Climate Hero Park has invested four pieces of property for the whole project, each one distance 800 kilometers from Vancouver BC to Watson Lake Yukon, which is just for a one-day trip. In summer, it is used for bees to produce honey to ensure that each beehive produce 120 pounds. In winter, they are as a site for Arctic self-driving northernlight tourism, plus a unique Solar Jeep Wrangler for rent, it has unique core competitiveness in travel business.
Promise about Legal
In order to be able to realize this project for legal, we have prepared and tried it about 3 years.
First, we must choose an agricultural project that is suitable and profitable in a tiny house community on ALR land in Maple Ridge,Hixon and Fort Nelson, so we created a sharing bee farm.
Tiny houses are necessary equipment in farming tour.
Second, like Trudeau said: "If this pandemic has been an unprecedented challenge for our country, it has also been an important opportunity to figure out what really matters in our communities, to have meaningful conversations about how we can take care of those around us, and perhaps above all, to think about what kind of future we want to build together."
Tiny house farm is a different "less is more" lifestyle, it is not a poor community for homeless, it gathers a group of romantic and noble people. So we chose tiny house with an outdoor hot tub.
We are concerned about social development, climate change, and humanity's future!
So we create a Travel Platform from BC to Yukon for $220 per night, to experience a different life in tiny house sharing bee farm.
Let more people join our group, at the same time, so that every member who invests tiny house can make funds and create a life which they love!
Promise about Return on investment
There are many kinds of honey in the world, and different honeys have different prices. The most famous honey in the world is New Zealand's Manuka honey 20+ UMF, which costs about $150 per pound. Many customers eat it as a natural medicine by its good story.

So we study and create a new kind of mix honey through 3 years, it is Mix by Yukon's Chaga plus BC's honey. We named it as "Chaga Honey", so we investe a 80 acres property in Watson Lake in Yukon for picking up and produce Chaga.
We think that in terms of medicinal value, Chaga is much stronger than honey, even Manuka honey. Chaga is called "The King of Herbs" in the world.
So we believe we have a good business opportunity for it. Now our sales price is set at $80 per pound, and we formulate the grade according to the latitude degrees of Chaga picking, such as Chaga picked at latitude 65 degrees N., we named AF65+.

Because the average price of honey in northern Canada is $2-3 /lb, Yukon's Chaga is $30-35/lb, so we think we have enough profit margins to allow our sharing bee farm members to get an ideal return on investment from bee farming.
This is Chaga honey nutrition report and online marketing website: www.yukonwildfoods.org
The popular area for canada honey is in north BC, from Prince George to Fort Nelson, but there is very cold in Winter. So we pick up beehives to Price George and Fort Nelson in summer and store beehives in Maple Ridge in winter every year.
In this way, we can produce large-scale, natural, unique chaga honey to obtain sufficient return on investment.
Commercial Land in Yukon
Only agricultural land is not enough, we also need commercial land. Agriculture plus tourism will reduce the investment risk of whole project. Tourism can allow us to quickly recoup the investment, but the agriculture is stable, even if one similar Covid-19 pandemic event occurs again, we can obtain the expected return also.
So our property in Yukon is commercial land, our golf course had already started operation and started to operate Aurora tourism business. We plan to develop it to the world's first climate change experience adventure park, here is the Canada's most ideal aurora holy land.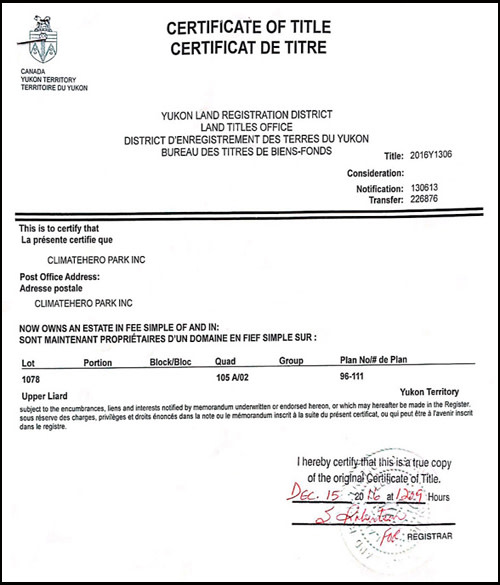 Into The Wild — Camping Free Forever !
From Vancouver to Arctic

Join us, as a Tiny House Investor — Book Now